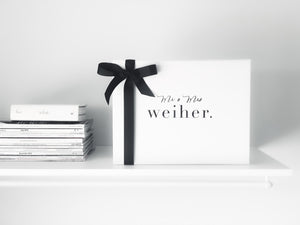 FRAGILE ITEM - We highly recommend using Express Shipping for any fragile items to avoid transit damages.
PLEASE PROVIDE THE NAME WITHIN THE "PERSONALISED TEXT" BOX ABOVE.

EXAMPLE: Mr & Mrs Weiher

The perfect box for the perfect gift. A keepsake box!
ribbon of choice, and black tissue paper. 
BOX SIZE - 340mm wide x 260mm long x 90mm deep.
Please note - The Simple Collection is all lowercase with a full stop at the end as photographed.