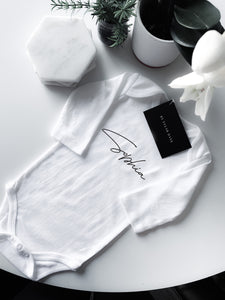 Whether you're spoiling your bub or gifting, this bodysuit will be super stylish, warm and comfortable. 
PLEASE PROVIDE BABY NAME WITHIN THE "PERSONALISED TEXT" BOX ABOVE.
EXAMPLE: JONES
(Please note: Only 1 name can be used for this product) 
Onesie details: 100% COTTON RIB
CARTER'S L/S ORIGINAL BODYSUITS - BABY NEUTRAL

Onesie size: Fits 0-3 Months - They are a size 0000 and with the stretch, they fit a newborn oversized and can be worn all the way through to 3 months old. Depending on the baby's size some get wear up to 6 months old.